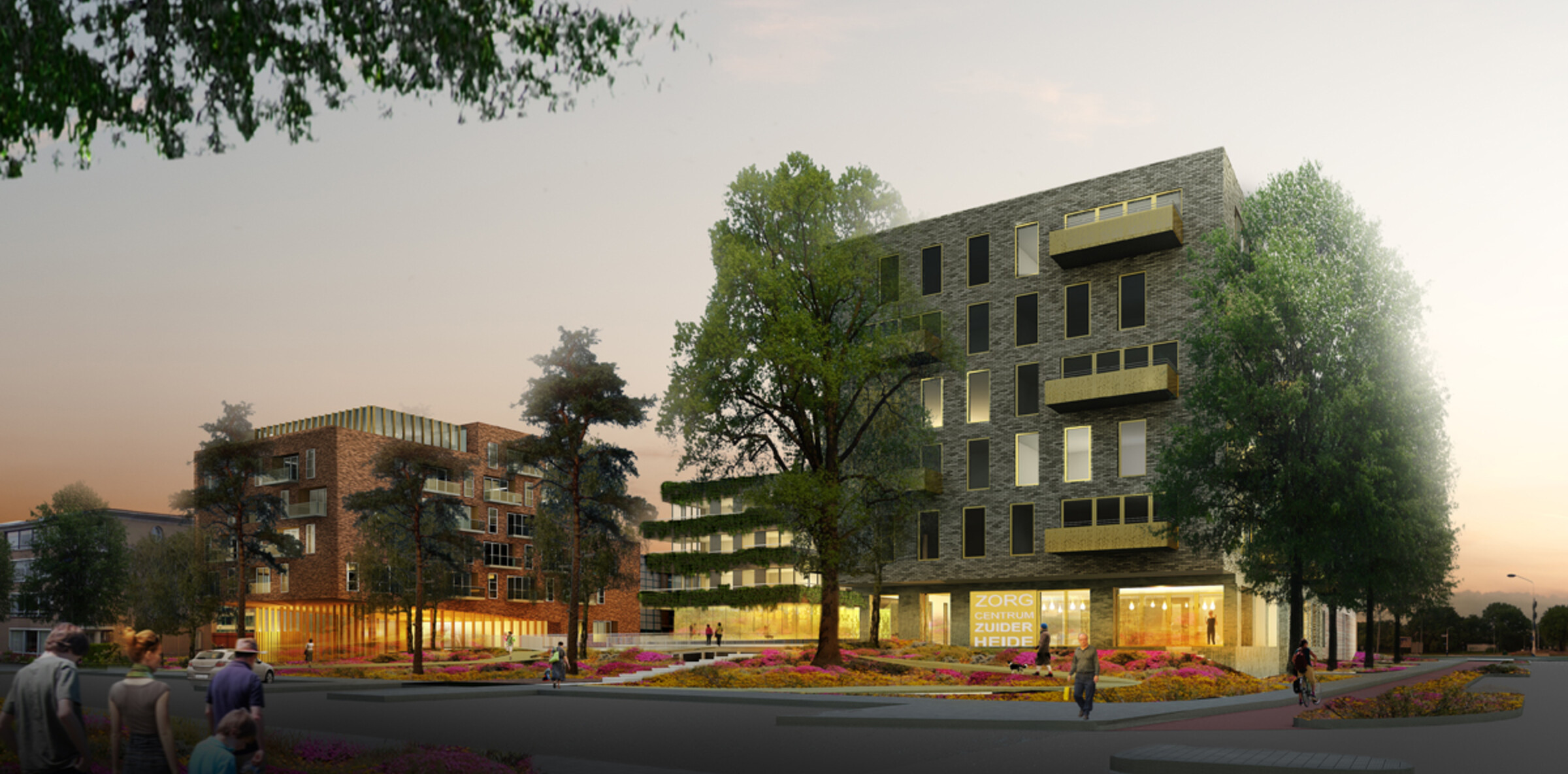 In the urban plan of Moke Architects Zecc is realizing a residential apartment building combined with a health care centre. The area is mainly programmed for several living and care functions. The aim on one side is to offer certain independence but on the other to make sure all the facilities and services are present if necessary. The social interaction between the residents is an important condition, which can be traced back not only to the urban scale but also to the building design itself. Diverse apartment typologies, high quality meeting places and extraordinary service are supporting this ambition.
Our design is arranged around a special hall and has an overall character. The arrangement of the balconies create a playful impression. The parking is placed under a raised ground level.
The open character and permeability of the public spaces in Zuiderheide are essential. Appealing services are for the whole area – such as a restaurant, a hair dresser or a day care centre for children – are affording a continuously dynamic neighbourhood.
Hilversum
Housing
4.300
Dudok wonen
IMD, Cauberg, DPA
46 apartments, health centre
2013 - present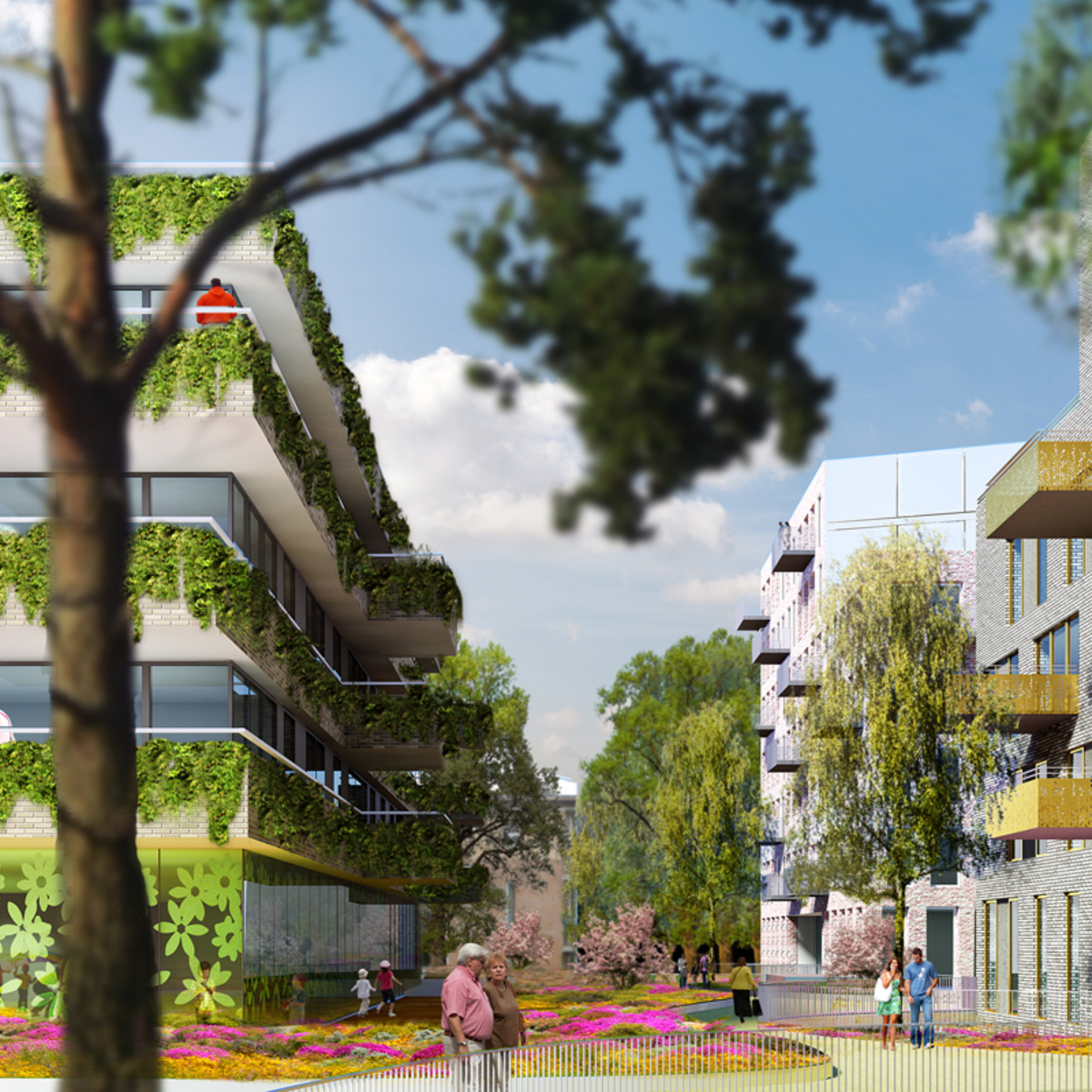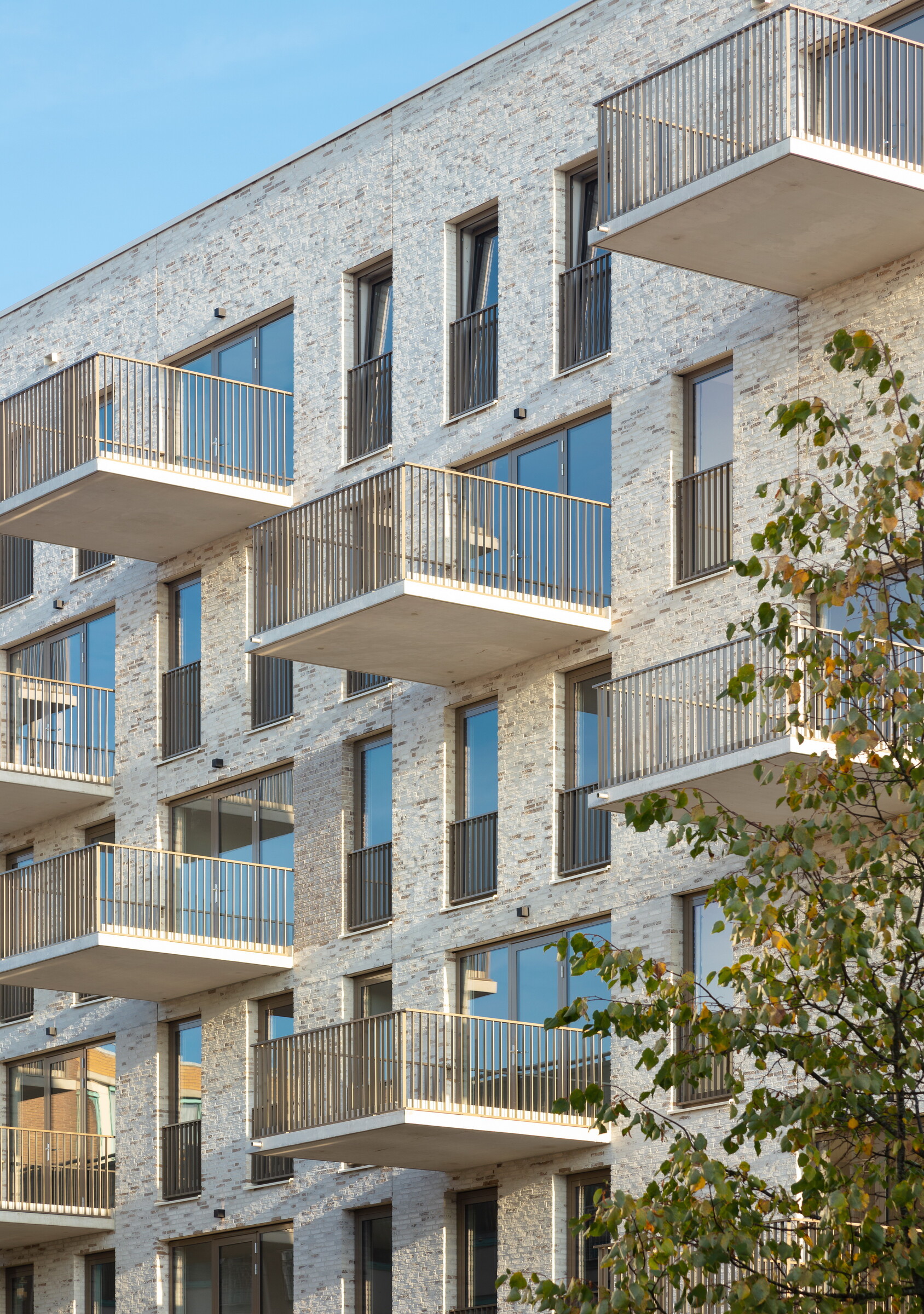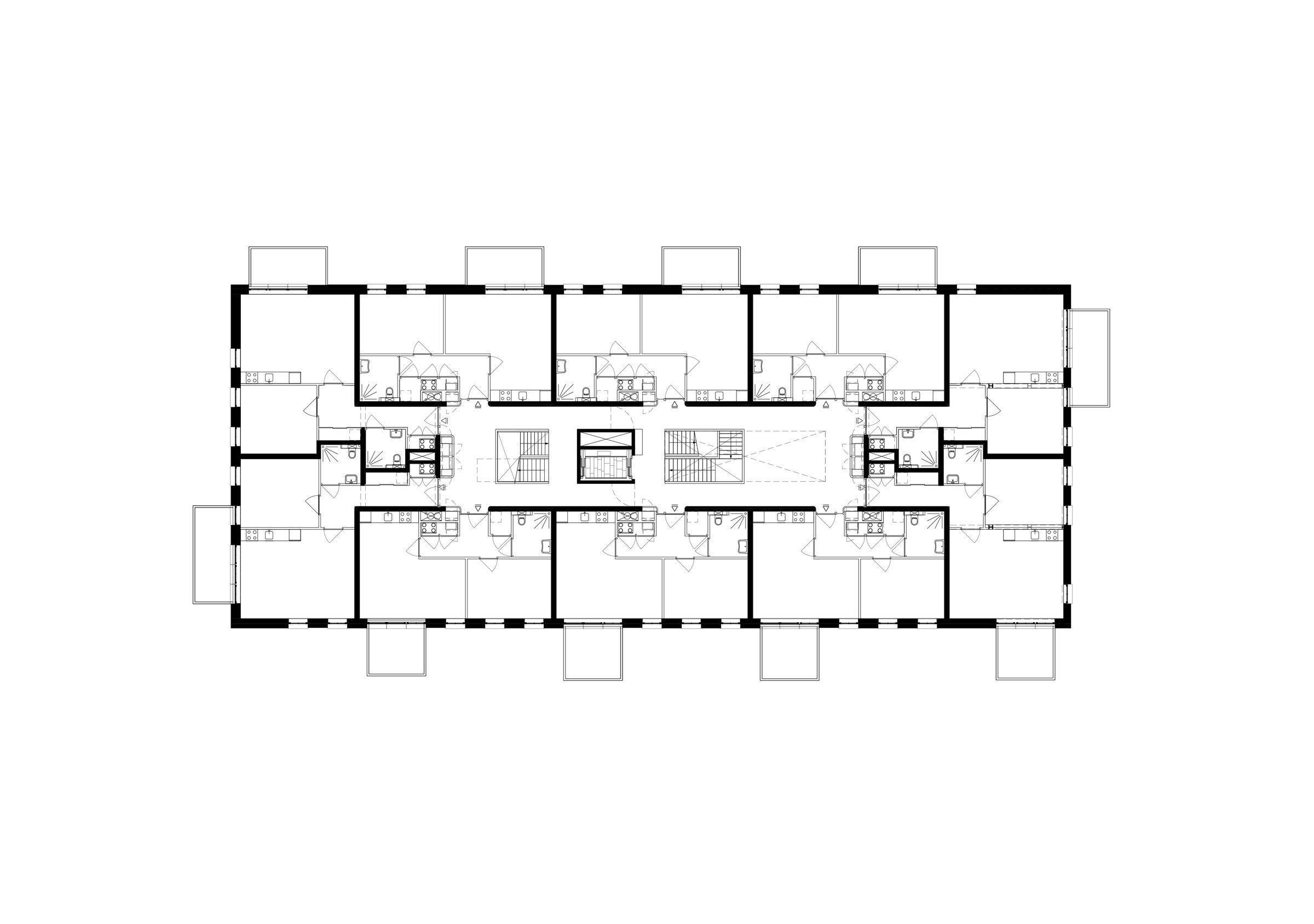 Krimpen aan den IJssel

Housing

Gemeente Krimpen aan den IJssel

Jasper Smits, Jos van de Lindeloof, De Langen & van den Berg

Noorderhaven Kade Noord

Zutphen

Housing

21.000

Heijmans Vastgoed

KCAP Architects & Planners

apartments, dwellings

2017 - 2021

Scheveningen

Housing

4500m2 appartementen en 600m2 bedrijfsruimte

De Zuid C.V.: MRP Development en VORM Ontwikkeling

LEVS architecten, Hoyt architecten, Copijn landschapsarchitecten

De Koningin

Zwolle

Housing

4.000

Van Wonen Vastgoedontwikkeling

Nijhuis Bouw, Alferink van Schieveen, Nieman, Hulstflier

apartments, housing

2016 - 2020

The island Meerstad

Groningen

Housing

5.300

LAP Landscape & Urban Design

27 houses

2017 - present

De Ark Tiel

Tiel

Housing

1.500

De Bonth van Hulten, Laplab, Ingenieurs bureau van Ierssel

Woontoren Porto

Almere Duin

Housing

Klunder Architecten, Amvest, ZUS [Zones Urbaines Sensibles]

Solitair Cartesiusdriehoek

Utrecht

Housing

8.200

Keystone vastgoed

apartments, retail

2019 - present

Steel Craft House

Utrecht

Housing, Transformations, Private

120

R. Manders en H. Caspersen

staalstudio, vrienden, vof de Bouwmaat

house

2011 - 2020

Mauritsstraat

Zaandam

Housing

Borghese

LAP Landscape & Urban Design

Leidsche Rijn Centrum G8

Leidsche Rijn Centrum

Housing

19.000

BAM

BAM, BureauvanEig, Flux landscape, Nieman

178 apartments

2018 - present

De Bolder Buiksloterham

Amsterdam

Housing

4.000

De Alliantie

Hurks

social housing apartments, multifuctional space

2015 - 2020

Wanderlust

Leidsche Rijn Centrum

Housing

11.000

HBB Ontwikkeling

Faro, Delva Landscape, ARUP

apartments, housing

2019

CPO Zeisterwerf

Zeist

Housing

4.000

CPO Vereniging Surplus

Salverda Bouw

apartments, communal area

2015 - present

Wisselspoor Utrecht

Utrecht

Housing

3.150

Synchroon

housing

2017 - present

Tower apartments Meyster's Buiten

Utrecht

Housing

1.500

vof. Meyster's Buiten

16 apartments of 120 m2

2011 - 2017

Johan de Wittlaan

Woerden

Housing

19.000

Synchroon

LAP, IMd, BuroBouwfysica, Visscher installatie advies

apartments, dwellings

2017 - present

De Laak

Amersfoort

Housing

550, 2400

De Alliantie

Heijmans Bouw, Nieman, Strackee

apartments, housing

2016 - 2019

Care housing Weijerstaete

Boxmeer

Housing

5.600

Mooiland Vastgoed / Van der Heijden

Van der Heijden, Fit Ingenieurs, VIAC

care apartments

2011 - 2016

Rijnvliet Midden

Utrecht

Housing

5600, 240, 300

Van Wanrooij Projectontwikkeling B.V.

De Zwarte Hond, Bedeaux de Brouwer, Hans Been, Felixx Landscape architects & planners

apartments, housing

2019 - heden

Student housing

Utrecht

Housing, Transformations

Versteeg Utrecht

student housing

2014 - 2016

Monnickenhof

Amersfoort

Housing

2.400

Schipper Bosch

Van Bekkum

housing

2015 - 2019

Park Zestienhoven

Rotterdam

Housing

Blauwhoed

Lodewijk Baljon

apartments, dwellings, leisure

2019

Zuiderheide

Hilversum

Housing

4.300

Dudok wonen

IMD, Cauberg, DPA

46 apartments, health centre

2013 - present

Eemskwartier

Groningen

Housing

Heijmans Vastgoed

Heijmans Bouw

66 houses and 111 apartments

2012 - 2017

Defence Island

Woerden

Housing

1.100

Blauwhoed Vorm

Karres en Brands, Groosman, Braaksma en Roos

apartments, housing

2017 - 2020

Research Redevelopment Telephone Building

Amsterdam

Housing, Transformations

3.300

Aham Vastgoed

Van Rossum

apartments

2016 (competition)

Starter Apartments

Amersfoort

Housing

Heijmans Amersfoort

Heijmans bouw

18 small apartments

2005 - 2010

56 apartments

Etten-Leur

Housing

6.300

Van Wijnen Zuid / WEL

Van Wijnen Zuid

56 apartments

2013 - 2014