E-0 Monument Driebergen BNA gebouw van het jaar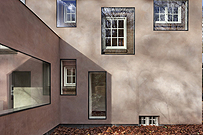 Durable monument Driebergen wins BNA building of the year 2011, region North/West/centre
14 April 2011
The project `durable monument Driebergen' by Zecc architects has been exclaimed to BNA bldg. of the year in the region delta.
Download here the report of the jury.