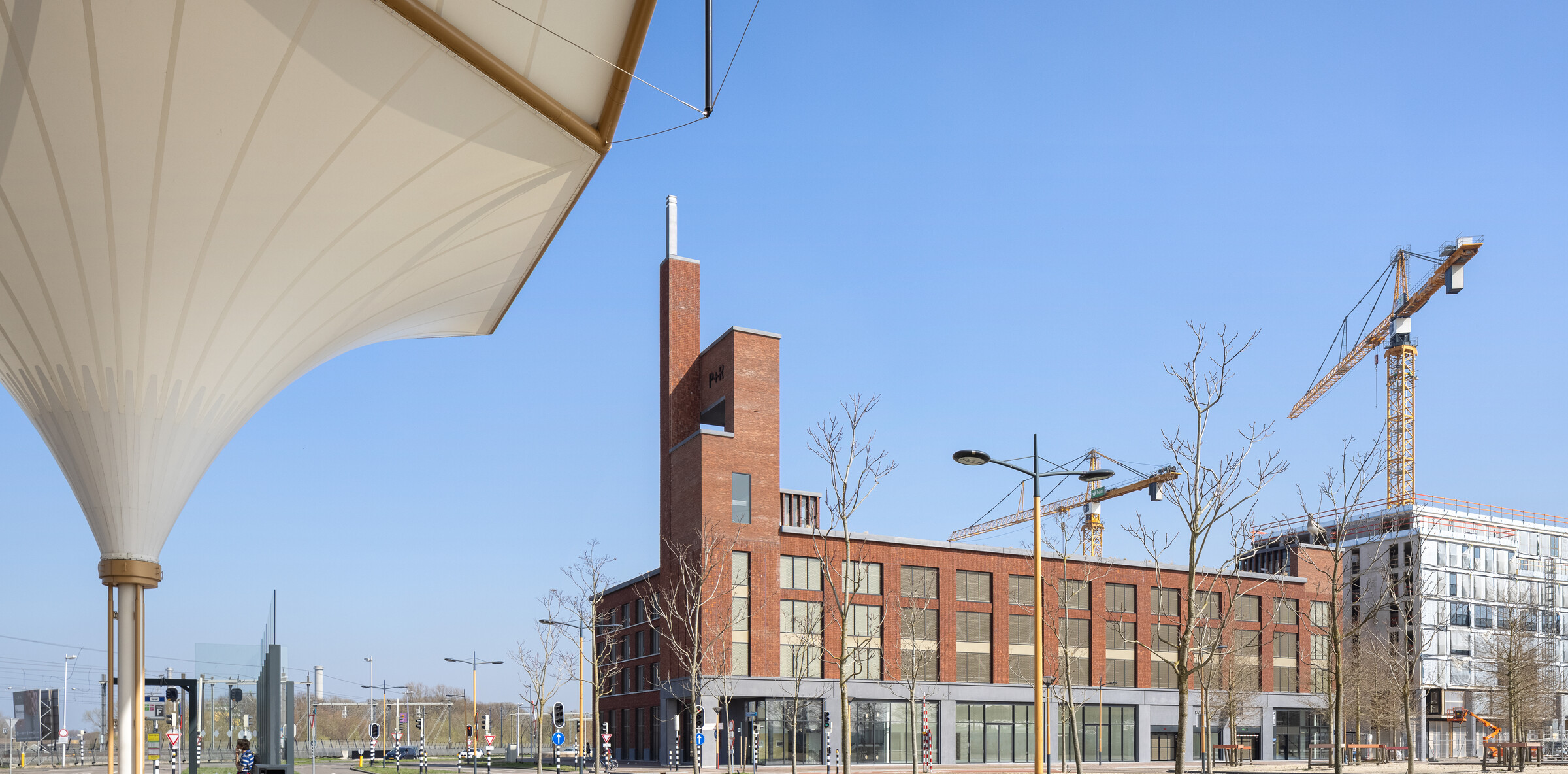 Parking building Utrecht
Tower of Parking
In Utrecht's Berlijnplein, an extraordinary parking building has been realised with a striking tower, adding a landmark to Leidsche Rijn Centre. The building accommodates 620 vehicles that can use three entrances to access the column-free floor areas on eight parking levels.
Berlijnplein is part of Leidsche Rijn Centre and is located above the A2 tunnel. The car park is in a prominent position on the square, forming the corner of several blocks in Leidsche Rijn Centre. For this reason, the building has not been given the abstract and anonymous look of a multi-storey car park, but has been designed to have a clear and appealing identity. It is more reminiscent of an office or school building. This identity is accentuated by the expressive tower that also serves the function of communicating the building's P+R status. A light-emitting pinnacle marks the highest point of the tower. This tower simultaneously serves a public function for the area, marking the end of the covered pedestrianised route from Parijsboulevard. Leidsche Rijn Centre lacks the usual landmarks characteristic of historic city centres. To make up for the lack of a church tower or town hall, the area has been given additional marking. Leidsche Rijn now features the splendour of a parking cathedral.
Designed with a strong rhythm on all sides of the façade, the building's layout continually responds to its context. The façade on Berlijnplein is the most vibrant, featuring a tall plinth that incorporates a commercial function. Its verticality is accentuated by the masonry work and façade openings. The other façades all feature a different composition, bringing variety to the overall appearance. The façade openings, intended to facilitate ventilation in the car park, have been finished with a perforated, slightly glossy sheeting within a steel frame, divided up like a window frame, which is suggestive of a residential/office building. It is even feasible that the building will be transformed into residential accommodation in the future and preparations have been made for two additional storeys. The use of brick is also more reminiscent of a residential function than a utility building. The building features a plinth in anthracite-coloured aesthetic concrete and façade elements with cast bricks-on-edge. The tower also incorporates traditional masonry work. Nesting opportunities have been created in the tower for swifts and bats.
Leidsche Rijn Centrum
Public buildings
20.500
Gemeente Utrecht
BBN, IMd ingenieurs, Verhoef Installaties, HCPS
parking garage
2016 - 2020