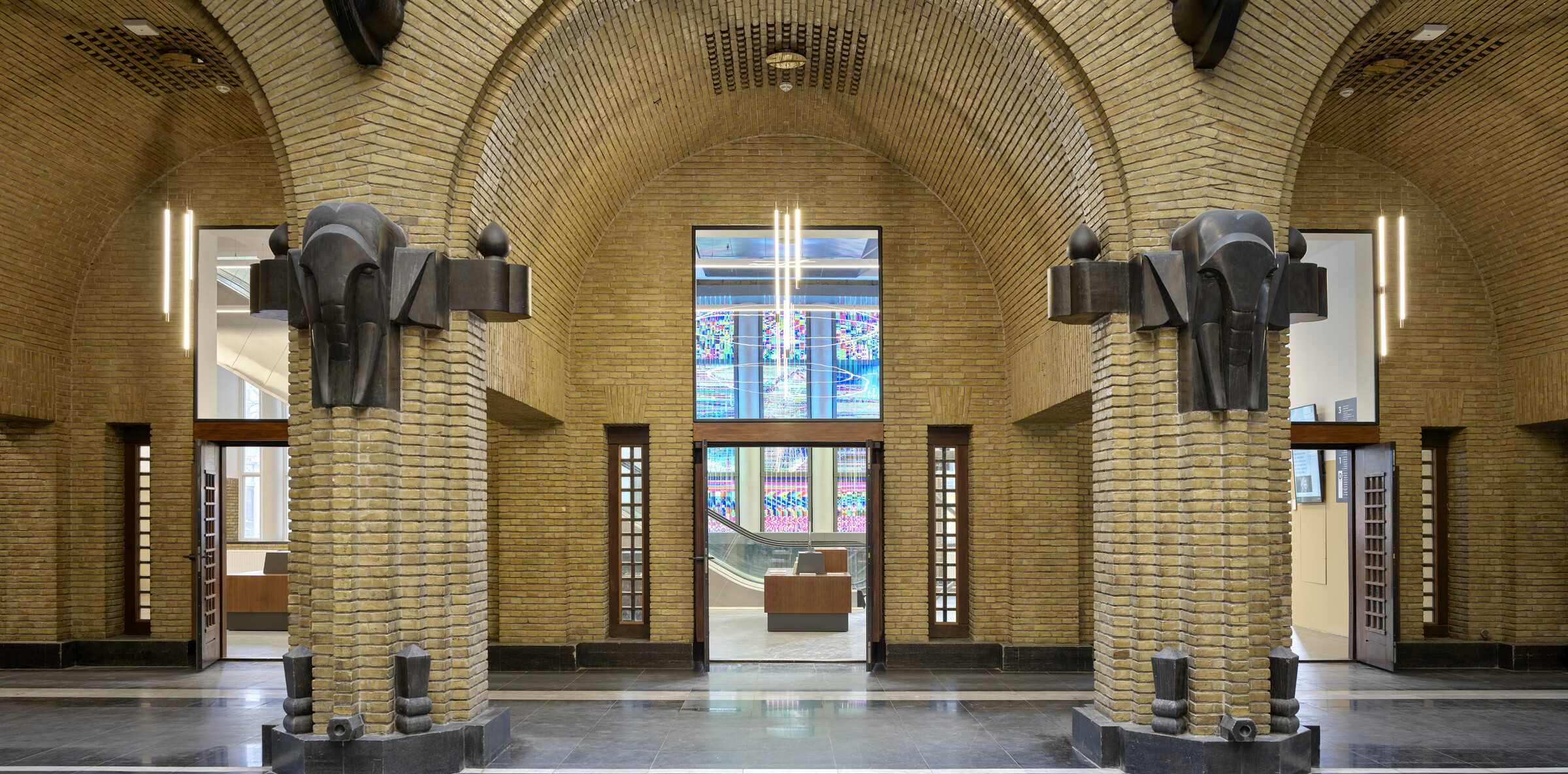 Interior Library Neude
Cathedral of knowledge and interaction
The former head post office at De Neude in Utrecht was transformed into most public building of Utrecht. The phenomenal central hall where in earlier times many a resident of Utrecht queued for a sheet of stamps and the beautiful surrounding areas that, until recently, had remained a hidden gem to everyone, are ready to be explored again. The inaccessibility of the former post office has been broken, Zecc designed areas to meet, relax, study and work. The guiding principle was always to seek connection and melt old and new. When letters were sent here and the ladies on the attic worked on the telephone switchboard, connection was also a focal point. And also now that the building has become a special place to meet for all residents of the city.
Royal reception
Visitors are welcomed in the monumental hall of Joseph Crouwel. Kellerhuis: "This is an entrance area that can rarely be found in the Netherlands. The challenge was to structure the layout modestly. Have the available quality speak for itself. Create a starting point for an exploration of the library. In an inviting living room where young and old, students and workers, can meet each other. At this location, history and the 21st century meet. With intimate alcoves, large fenestrations, stained glass and modern art. A cultural fusion in the heart of the city." There is an additional reception hall on the second floor, the service desk. The route to it is transparent, spacious and dynamic.
Contact with the Oudegracht
"On the second floor the library covers the entire plot surface. Also, the former forwarding courtyard to which volume was added to accommodate the brasserie and the auditorium", says Vermeesch. Imbedded between the wings of the original post office, the brasserie and the auditorium offer a view of the Oudegracht and the ornamentation of the monumental staircases. Vermeesch: "They are still being used. The staircases and the hidden ornaments can be seen through the lateral windows of the brasserie. You can almost touch the drops." Just like the shopping public that is walking by under your feet.
Utrecht
Transformations, Interior, Public buildings
9.000
De Bibliotheek Utrecht
Rijnboutt, Jurriens B.V. maar! bouwmanagement, Coors, Keijsers, Gispen
library, offices, hospitality, meeting rooms, auditorium
2015 - 2020