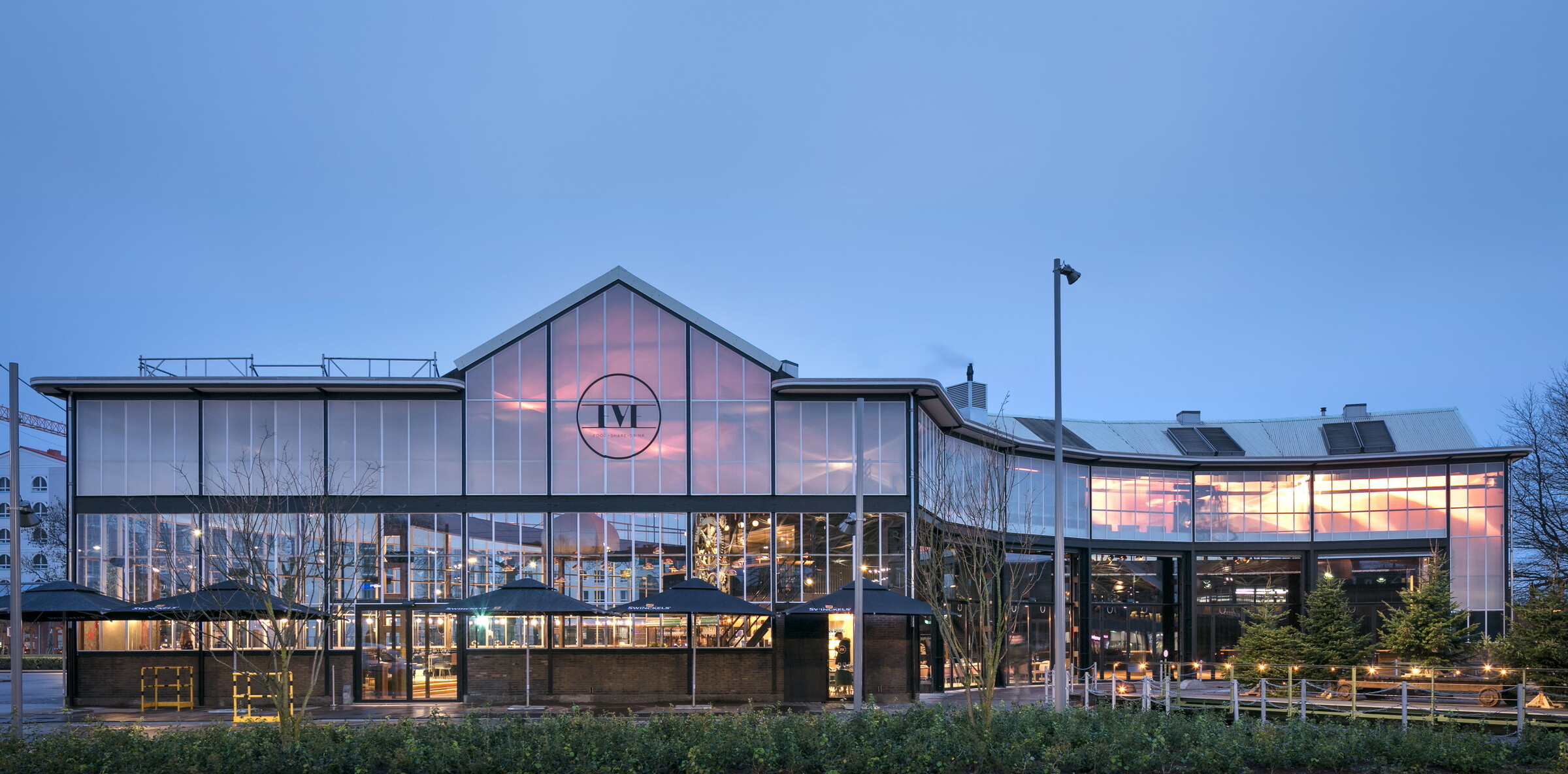 Polygonal Workshop
Polygonal dining in industrial heritage
The Polygonal Workshop's massive doors are open again! Zecc has designed the redesignation of this exceptional monument. In the olden days, locomotives were railed in for maintenance using an enormous turntable. Nowadays it is a publicly accessible building, right next to the railway station and the initiator for new developments on the northern side of the track. The workshop of glass and steel was transformed into a unique hospitality establishment with a restaurant and space for events with flexible layout. The interior concept is by Dimitri Schouten. The interior design / styling is provided by Hugo Interieurvormgeving.

Design
A single organising object has been created in the large open Polygonal Workshop space. It has been positioned as such that the workshop can be used in two parts. One part can be used as a grand café/restaurant and the other part is completely open for multifunctional use. The object contains all the support facilities and allows the rest of the space to be as open as possible. The volume has been kept detached from the façades and the continuous space remains perceivable. Because of its stepped forms, large windows and rounding of corners, it is not as harsh and creates a beautiful contrast with the rigid architecture of glass and steel in the workshop. Train tracks with crawl spaces in the hall have alternately been closed off with sections of wood and glass. They can still partially be used as track, which enables train carriage bases to be used to flexibly layout the space. The huge wall openings on the turntable side have been filled with steel fronts with outward-opening doors onto the terrace. The original roller shutters are still present, and these are used to close the façade in line with the original image. The entire façade has been fitted with new double glazed windows in the existing steel profiles. The façade is interspersed with transparent glazing and frosted glass. The composition of frosted and transparent sections subtly reflects the function behind it. The frosted glass parts emphasize the coherence and contour of the façade. The transparent parts open up the building towards the city.


Transformations, Public buildings
EVE, BAM, Hugo Interieurvor...