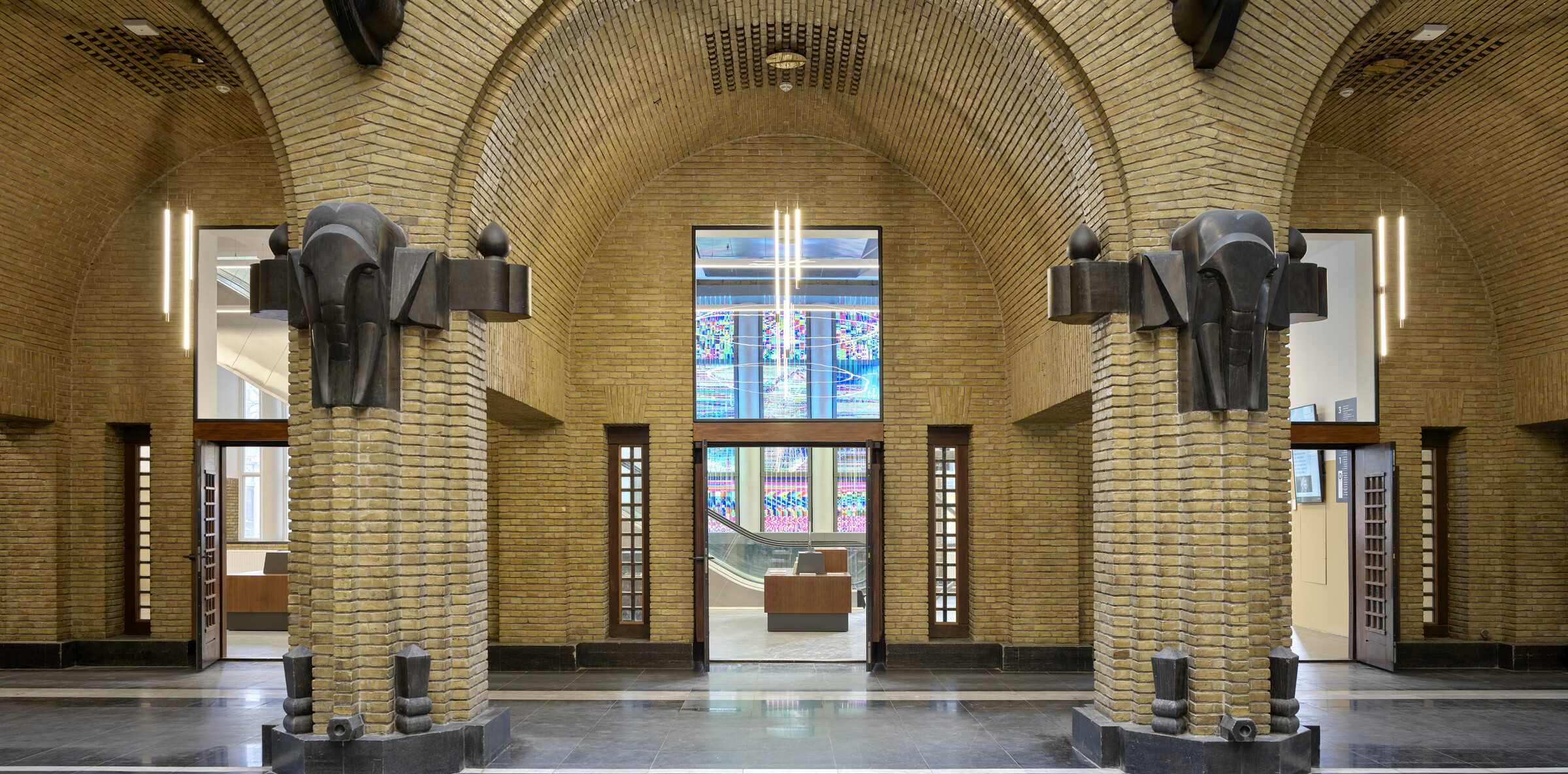 Interior Library Neude
Cathedral of knowledge and interaction
Utrecht 10 March 2020 – On Friday 13 March the Neude Library is opening its doors to the residents of Utrecht. A part of the former post office will then once again become accessible to the public. Visitors can roam the floors with books and study places. And marvel at the view of the city.

The national heritage site is mostly known by the entrance hall. The rhythm of the parabolic ceiling, the glazed yellow stones and the sturdy ornaments. "This entrance was the only place that was accessible to the public. But around the hall there is another 8,000 square metres of commercial space. And that fascinates. So much hidden space in the heart of the city", says the architect of the library Bart Kellerhuis of Zecc, who is also responsible for the interior. Architect Frederik Vermeesch of Rijnboutt took on, under the authority of a.s.r. real estate, the owner of the building, the redevelopment of the almost 100-year-old building. The redevelopment of the shell and the expansion of the Oudegracht. Vermeesch: "The challenge for us was to create a connection with the city. To unlock the building and to open it up to the surroundings."

Royal reception
Visitors are welcomed in the monumental hall of Joseph Crouwel. Kellerhuis: "This is an entrance area that can rarely be found in the Netherlands. The challenge was to structure the layout modestly. Have the available quality speak for itself. Create a starting point for an exploration of the library. In an inviting living room where young and old, students and workers, can meet each other. At this location, history and the 21st century meet. With intimate alcoves, large fenestrations, stained glass and modern art. A cultural fusion in the heart of the city." There is an additional reception hall on the second floor, the service desk. The route to it is transparent, spacious and dynamic.

Contact with the Oudegracht
"On the second floor the library covers the entire plot surface. Also, the former forwarding courtyard to which volume was added to accommodate the brasserie and the auditorium", says Vermeesch. Imbedded between the wings of the original post office, the brasserie and the auditorium offer a view of the Oudegracht and the ornamentation of the monumental staircases. Vermeesch: "They are still being used. The staircases and the hidden ornaments can be seen through the lateral windows of the brasserie. You can almost touch the drops." Just like the shopping public that is walking by under your feet.
Transformations, Interior, Public buildings
Rijnboutt, Jurriens B.V. ma...
library, offices, hospital...